TOP 10 Handmade Puerto Plata Souvenirs
Hello Travelers!!
February is a month that we celebrate a lot of important things!  We celebrate our independence (Feb 27th), where you have not only the Carnival closure, but also, many schools have a parade around town. This year we are also celebrating our Municipal Elections (Feb 16th), so if you see a lot of people around schools, that is what is happening. We celebrate every Sunday, our Carnival, in every town of the Dominican Republic, so don't miss the opportunity to see that!
February is also the month we internationally celebrate love and friendship, why not bring your BFF a fantastic handmade souvenir from our beautiful province? I'm sure you'll be as surprised by our local talent as we are proud of having them.
Here's our top 10!
Puerto Plata Souvenirs – Local Victorian Houses Miniature Replicas by Daniel Liriano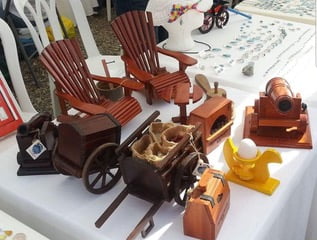 Daniel Liriano is a local artist that works carving wood and creating amazing designs that reflect the history of our town. His repertoire is about 25 different pieces that vary from the Victorian houses to mini-chairs, wooden doors, cannons…He is the son of an artist that also created beautiful pieces. His father made them for the Brugal family and enterprise.
He grew up watching his father support the family this way and so learned to continue with his father's legacy. You can find his creations at his workshop, located at Calle Primera (1st St), Nuevo Renacer, Puerto Plata, previously known as "Aguas Negras." But you can contact him at 829-515-1678 shall you like to place an order beforehand.
Puerto Plata Souvenirs – Coffee Bean Jewelry by Carmen Maria Almánzar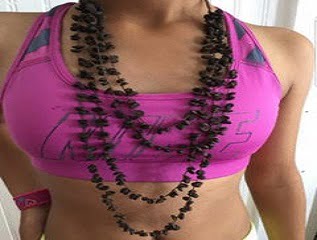 This artist creates beautiful necklaces and bracelets using coffee beans as her raw material.  You can find her pieces at ¨Rincon del Café¨ a coffee place around central park area Puerto Plata (Separation St. #12, cornering 12 de Julio St.) and also contact her at 1-829-917-4407.
Carmen learned about the confectioning of necklaces with Colombian teachers that imparted workshops on ecological accessories. At the time it was just out of curiosity, but she soon started to like it so much that at a time of unemployment back in 2008 she decided to start her own business based on the creation of jewelry. Today her creations have evolved to all sorts of beans.
Puerto Plata Souvenirs – Carmen Huerta's Painted Purses and Trays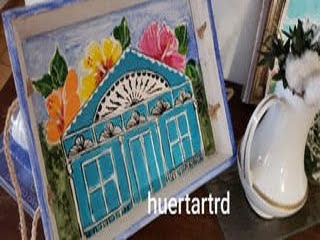 These fabulous purses and other creations of this artist can be viewed at her Instagram account @huertartrd. Carmen Huerta is a Dominican interior designer graduated from UNPHU University. However, her first lessons as a painter were given to her by renowned Puerto Plata artist Rafael Arzeno.
She also received training from different famous artists around the nation. Both the purses themselves and its art are handmade by this awesome craftswoman. It's an ideal souvenir for women internationally, that will bring a bit of Puerto Plata to the person you gift it to since the paintings represent an actual place to visit while in town.
You can take a picture of yourself at the spot and make the purse of the same scene home with you. You may also request a specific painting of your choice if time allows before your departure.
Puerto Plata Souvenirs – Jose Ramón Liranzo's Leather Purses and Hats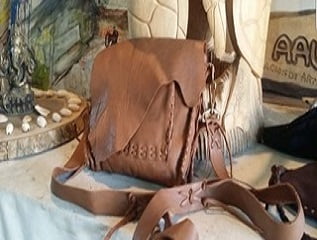 José Ramón Liranzo is an artist that works on leather. He makes beautiful purses and hats all by hand, the old style. You can see the simplicity of his design, yet the complexity of the making process doesn't fall far.
He has been working on his leather creations along with wood carving sculptures for about 27 years. You can find his creations at ¨Todo Arte¨ located in Cabarete, by the entrance to ¨Callejon de la Loma¨, in front of Bliss Restaurant.
José comes from the city of Santiago; however, he cares about the community he has embraced as home and is committed to supporting it. He is the current president of the Association of United Artisans for Sosua and Cabarete (AAUSOCA). He started his artistic path at the age of 12.
Puerto Plata Souvenirs – Higüero Handcrafts by Wanda & Máximo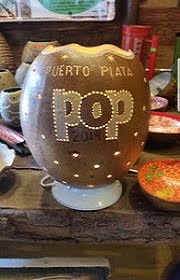 These beautiful creations by Wanda Trotman & Máximo Tavarez are made of the crust of the fruit of a tree. It is not an eatable fruit. Since ancient times, this crust has been used by the natives to create different types of containers for kitchen use.
Nowadays, it is also used to make lamps and other decorative designs. Artists like Wanda & Maximo have developed this innate ability to create beautiful pieces by carving the crust of the Higüero fruit.
They have been doing this for about 16 years now. You can find their creations at their stand in Amber Cove Port, or you can contact them at 1-829-524-5433
Franklin Ortiz, Jewel Sesigner @ The Grand Factory Gift Shop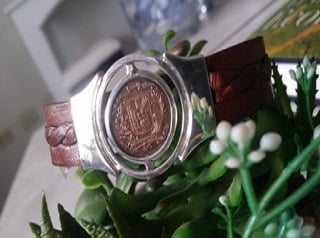 Son of a jeweler, Franklin Ortiz, grow up to become part of the family business, founded by his father, Ramon Ortiz in 1978.
This project has become a jewelry factory where tourists can observe the process of creating the pieces and admire the stands with so many variations of amber, larimar, silver, leather, wood, seashells, pearls, metals, and other precious and semiprecious stones.
They have developed expertise in the creation of wedding rings. His highest satisfaction in designing and creating custom made pieces. Don't miss the opportunity of enjoying a walk inside this factory and its store. You can find them at Beller St. No. 12, Puerto Plata.
 Irina Accessories by Irina González

Irina is native to Puerto Plata and has been confectioning her creations for over 15 years. She is in love with her work, enjoying the designing and elaboration of each piece.
She is an interior designer hence, creating identifies her. You can take a look at her Instagram account @irinaccesories. Should you want to delight a good friend with one of her pieces, you may buy in bulk or by the piece, since she also sells her pieces for resale.
Handmade Accessories by Mirtha Taveras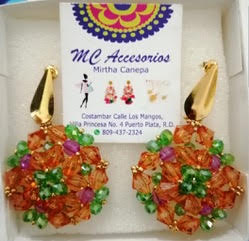 Mirtha is another artist from Santiago city that has made of Puerto Plata her home. She started her artistic endeavor as a hobby back in 2016, with no idea she would end up organizing exhibitions of her creations from which she committed to make this art a more serious matter.
She creates accessories that combine different materials such as crystals as the Swarovski, super duo, and pearls. You can find her creations at C/Los Mangos, Villa Princesa No.4, Costambar, Puerto Plata or by contacting her at 809-437-2324.
 MiCookie by Michelle Gil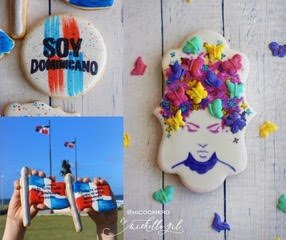 MiCookie was born out of the love of a mother to entertain the guests at her son's 6th birthday party with them ¨Legoland¨.
She then continued to bake them for snacks at home and then started to find it interesting to play with the dough and the eatable food coloring making amazing designs and colors. Every National Celebration, she has felt the need to make a cookie allegorical to the festivity.
Hence, we have the ones for the show, the DR flag, the I'm Dominican button, and the Non-Violence Against Women's Day! Shall you want to take home some of these which last for about a month, conserving its freshness and crispness, the order should be by the dozen, and ideally, you should place the order at least six days in advance. You may check her Instagram account at @MiCookieRD
Fossil Wood from Imbert, Puerto Plata, Creations by Pedro Vásquez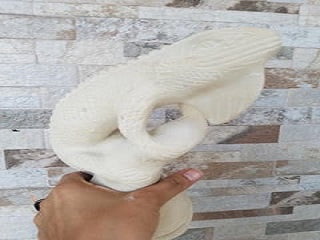 This rare raw material is a rock; however, due to the array of brown colors it displays after having been polished, it has been labeled as fossil wood. Pedro is from Sabana Larga, Puerto Plata.
Every morning he arrives at his spot at the back of the Orange Market in the area known as ¨El Pueblito¨ before Playa Dorada Beach Hotel Compound. There he sits and starts to carve his beautiful creations. He lets his mind, eyes, and hand do the work on the stone.
There is not a prior paper sketching in his creative process. He is an innate artist. Pedro has been working this stone for over 35 years. He first started assisting his brother-in-law at the age of 14 until he got immersed in this field of work. You may contact him at 1-829-984-9814 if you want to order a specific shape beforehand, at least a day in advance.
Of course, there are many other creations you may find interesting to shop around for; I would advise you to ask around for Radiolaria, flor de mar or flower of the sea, its most significant artisan is located in Monte Llano, Artisanal Chocolate from the Women at El Chocal, Coconut shell ornaments, raggedy dolls, stone carving…
EVENTS AND THINGS TO DO IN PUERTO PLATA


And finally, for the FUN Part, here the activities and things to do in Puerto Plata on FEBRUARY  2020. Don't stay at your hotel or home and join the folk to enjoy and understand more of our fun and picturesque culture!
Every Day – POP CINEMAS at Playa Dorada Plaza – Movies.

Consequently, every Tuesday – Bohemian Night (Old Romantic music) + 2×1 Mojito's night at MECLAO Rooftop Lounge.

Every Thursday – TBT Night (Previous years' Hits) at MECLAO Rooftop Lounge.

Likewise, every Thursday – Live Saxo Music at Casa 40 – 8:00 PM.

Every Thursday and Saturday – Live Music at Green Jack – 8:00 PM.

Also, every Friday – Karaoke and Great Ambiance at VITT's (Umbrella street) – 9:00 PM.

Every Saturday:  Sosúa Artisan Market at Park las Flores, Sosúa. From 4:00-10:00 PM.

Also, every Thursday and Saturday – Live Music at Green Jack – 8:00 PM.

Every Sunday – Peña del Cigar (Cigar smoking club) at Green Jack – 11:00 AM.

Also, every Sunday – Family Evening at Vitt's Umbrella Street – Characters for kids – 6:00 PM.

Every Sunday (Except Sun 16th – Elections Day) – Kid's Carnival at Central Park starting around 4 PM.
Every Sunday (Except Sun 16th – Elections Day) – Carnival Parade and Show at Long Beach – Malecon starting at 3 PM.
Feb 14th –  Valentines Day Celebration dinner menu at Casa 40.
Also, Feb 14th –  Valentines Day Celebration dinner menu at Green Jack.
Feb 17th – PINTA Y GOZA – Painting workshop at Casa 40 – 7 PM.
Also, Feb 1th – 8th and 15th – Social Make up and Theater Character basic Make up Workshop – 10Am-12Pm at teatro Ivan Garcia.
Feb 28th – Fefita la Grande and Big Band Merengue concert at Blue Jack Tar.
Thank you so much for following our blog! If you enjoyed it, please like, share, and comment on it. Until the next one!!
Related Links and thanks to:
https://www.instagram.com/megaadventuresdr/
https://www.facebook.com/MegaAdventuresDR/
https://www.facebook.com/FunEasyLanguageSchool/
https://www.discoverpuertoplata.com
megaadventuresdr.com – Puerto Plata #1 Excursions Tours
*CLICK BELOW TO VIEW OUR TOURS
*CLICK BELOW TO SEE OUR PACKAGES AND MAKE RESERVATIONS