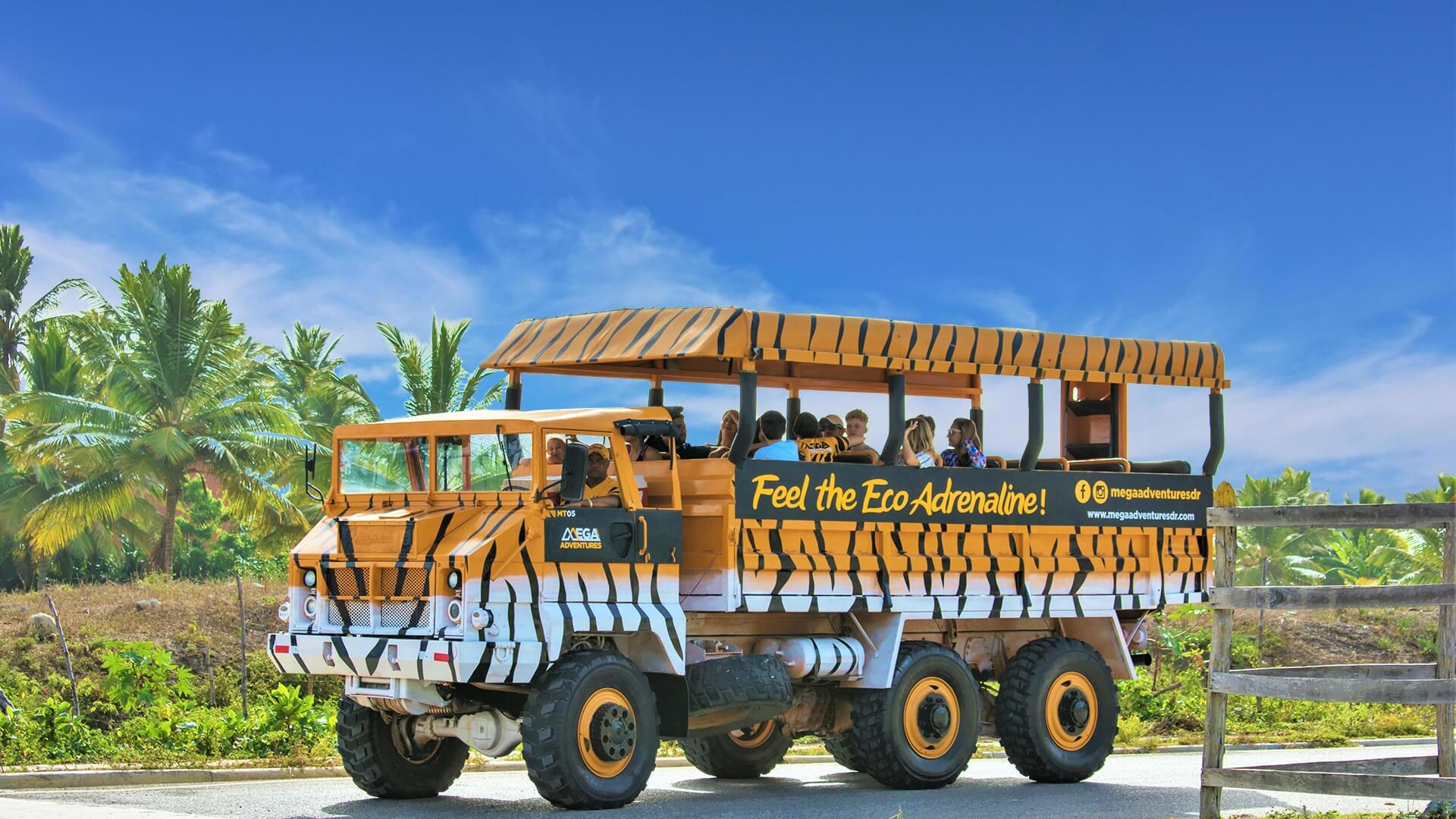 #1 Puerto Plata Excursions Tours
Prepare for incredible views of Puerto Plata in these zip lines platforms built around a 100-year-old mahogany tree!

Feel the Eco-Adrenaline
One of the Top Outdoor Activities in Puerto Plata
Mega Adventures DR - Tours
Calle Duarte, Imbert
4.8 192 reviews
Stacy Neville

★★★★★

a week ago

The zip lining tour was so much fun. This staff Were all so nice and helpful. Catalino our tour guard and our driver were amazing! I loved learning about the Dominican while we were on our way there! I would definitely use this company

… More

again. We did this as a trip from our cruise port!

Cathy R

★★★★★

5 months ago

We booked this excursion as part of our cruise on the Carnival Mardi Gras. We were celebrating our son's 16th and gave him the choice of what to do and lo and behold, this is what he chose. I'm not in the best shape so I was a

… More

little worried about the ziplining portion, but this was so much better than I expected it to be. The whole staff was amazing - making sure we were okay along the way and were personable, helpful, and fun. They gave us water half way through the course (7 lines in total) and the photographer always had fun getting us to pose. The horseback riding was an experience. It was so nice to go through the terrain of the mountains and see the beautiful views. The horses took us through a small creek and through a little section of the village. The staff made sure to stay with us and keep the horses on track if they veered a little off. The lunch we were offered at the end was DELICIOUS! Fresh fruit, beans, rice, and meats. Once lunch was over, we were able to shop in the little store for a while which had some nice, local made items. Gelsy and Carlos were amazing and so incredibly helpful. Gelsy had us laughing and was so interactive. We've done ziplining excursions before, but this by far was the best one. I would go with Mega Adventures a million times over.

Stephanie Valderrama

★★★★★

10 months ago

This was the best experience ever! 100% recommend you do this with german and luis! Amazing pictures, good vibes, and great memories!!

Brandon Keel

★★★★★

6 months ago

My girlfriend and a few friends recently went on a tour from Mega Adventures while on our cruise to DR. Our tour guide, Misael, was super knowledgeable and friendly. Him and the driver, Juan Carlos, were very nice and polite and took us

… More

to some very cool places for our 4 hour tour. The lunch served with the tour was also fantastic. I would absolutely recommend this if you're looking for a tour of Puerto Plata and some of the countryside. All photos included are from the tour

Brianna Larabell

★★★★★

11 months ago

Darwin our tour guide was amazing! This company overall was very organized and safety was a priority throughout the whole experience! Thank you again Darwin!!

Kimberly Leab

★★★★★

11 months ago

Misael was wonderful! Awesome tour guide and the tour in all was a blast. The water rock slides were very eventful and full of fun, the lunch was spectacular. The zip lining was fast and efficient, could not have had a better day!! Cannot

… More

wait to go back and do it again. -Papaya boys mom

DaWoyne Hill

★★★★★

a year ago

Awesome tour! Fabio was amazing!!

Daniel Lang

★★★★★

a year ago

Zip lines!! Great care, safety and fun environment. Our guide (Fabio) was one of a kind, great

Self Me

★★★★★

a year ago

The Mega Truck Adventure was great. SandyMan was our guide and Daniel was the driver. Sandyman was fun and informative. Very friendly. Daniel was a great driver.

Michael Thurston

★★★★★

a year ago

Lots of options for a 5 hour trip. Darwin goes out of his way to please. Recommend this to anyone.

Mike Schentrup

★★★★★

a year ago

Booked thru Carnival. Everything was well organized. Our guide, Gelsy Wilmore was fantastic. Took care of us and kept us on track. Even fed us some wonderful fruit, papaya and mango!

Joey Schentrup

★★★★★

a year ago

Carlos and Darwin took care of us and showed us a really fun time.

Susan McGowan

★★★★★

a year ago

Very fun excursion here. We did the waterfalls and buggies. Staff was attentive and helpful with people who didn't want to do some of the stuff, ex: jumping into the waterfall.

Steven Bellavia

★★★★★

a year ago

Excellent excursion booked through Carnival during spring break. Gelsy and Carlos were great guides, very approachable and attentive to the group. The zip lining course was incredible and the horseback portion was also very enjoyable with

… More

great guides that made sure everyone was comfortable throughout each activity.
The company's photographer was always present and took multiple photos of each guest during the entire excursion.
Bonus kudos to Mega on the day of for forewarning the group that it would be raining all day and that we could be refunded by the cruise line if we did not wish deal with getting wet. The rain did not keep us from enjoying the excursion and our included lunch.

Diana Rios

★★★★★

a year ago

Had such an amazing time at the waterfalls and ziplining. I am not a swimmer, however felt safe/secure at all times. We had headgear and lifejackets. Would definitely do this again. Eduardo our tour guide, with out hesitating let me borrow

… More

his watershoes after mine ripped open. I definitely would not have been able to walk over all those rocks without the watershoes. Modesto was a great driver too. Amber Cove beautiful!!!!

Kevin Ross

★★★★★

a year ago

Awesome tour guide, amazing trip! Booked it thru carnival cruise, and highly recommend it!

Jose Quinonez

★★★★★

a year ago

Amazing experience, we took the Damajagua waterfalls and zipline with Carnival Cruise and our tour guide "Francisco" was exceptional, they all provided a five stars service, The driver "Bolivar", The waterfalls guide "Berto" and the photographer

… More

"Steven" they all made us feel wonderful and made the whole experience incredible. Highly recommended, the waterfalls are beautiful and the zipline located in the company"s private property is amazing. Delicious food too!!!!

JAMES SMITH

★★★★★

a year ago

The funnest tour we've taken in the Dominican. We been 3 times and we recommend the Mega Truck tours.

Lakeshia Phillips

★★★★★

a year ago

When I tell you this was the best bday trip.. I had so much fun and the people are wonderful very nice and sweet.. Please go you will not regret it.

Víctor Alfonso Santos Díaz

★★★★★

a year ago

Muy bonito lugar, la atención del personal y el dueño hacia los visitantes es de primera calidad.

Mike Williams ★★★★

☆

a year ago

First may I say that the tour company, the guides, the driver and everyone in charge of our overall comfort and safety were excellent! You will experience a real adrenaline rush. However if you do not know how to swim DO NOT take part in

… More

the water falls excursion. The concierge at our hotel gave us bad information. It was explained that you could go around and wouldn't have to go through the very deep pools and that is not true. A more thorough explanation of what you will experience would go a very long way.

gaylan martin

★★★★★

a year ago

Eduardo and Luis were so fun and informative. i cannot recommend the mega truck culture and lunch tour enough. The lunch was very, very good.a memorable experience that i will treasure

Keisha Reynolds

★★★★★

a year ago

Michelle Heller

★★★★★

a year ago

Excellent adventure our tour guide Guerrimo and our driver Daniel were Excellent

Nicolette Dubon

★★★★★

8 months ago

I would give them more stars… a galaxy, if I could!!!! Booked this excursion while on our cruise on Carnival Horizon. Honestly, I was seriously contemplating cancelling this excursion the night before because we are all scaredy-cats in

… More

my family and this was our first time ever zip lining and horseback riding. However, I am sooooo glad we went through with it because it was hands down the best part of our vacation! We were greeted by the best tour guide, Darwin, and driver Modesto who was such a gentleman. They made the group feel right at home from jump.
The first half of the excursion we went horseback riding. We jokingly asked for the nicest horses, but they were are all well-trained. The guides were always close by to keep an eye on everyone & to keep the horses going at an even pace. We rode on bumpy terrain, through a gentle river, and up a slope. It was just enough adrenaline to make it a very memorable experience.
Then we went zip-lining. The team was super nice, funny, patient, and guided us each step of the way. Can't remember how long this took, but we did spend most of the afternoon zip lining through the forest. At the halfway mark, they offered water which was a simple yet kind gesture (cause boyyyy did I need it lol).
Afterwards, it was lunchtime! We ate so good, in typical Dominican style. The buffet had many great options. A huge thank you to the cafeteria lady who made us mangu from scratch ❤️
To sum everything up, I would definitely come back and recommend this tour a million times over!!! I wish I remembered everyone's names, but the entire staff on Friday 2/25/2022 were amazing. We felt right at home and had such a great time with our primos.