Hello Travelers!!
Firstly, today, I am writing this blog with a fantastic view of Sosúa bay. A must place to visit when traveling to Puerto Plata: clear blue waters, yellow sand, and one of the best deep-fried fish and piña Colada! You can check some of our previous blogs, with suggestions about beaches, food, or drinks to try while traveling here!
Christmas is in the air! December has arrived with its shorter and fresher-cooler days (yes, we Dominicans sometimes even wear sweaters!).
This time, I would like to share with you some of the top 10 Dominican Christmas traditions, hope you can enjoy some of them with us, welcome to the Dominican Republic traditions!
Dominican Christmas – Christmas Dinner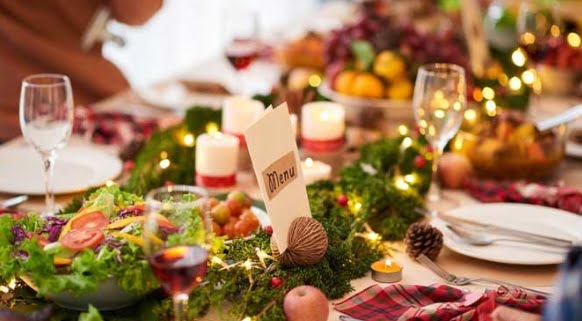 This time of the year, the most crucial night is Christmas eve (December 24th), when most of the Dominican Families get together to enjoy a family dinner.
The Christmas dinner menu tends to be always the same one: MORO (Rice with black beans), roasted pork, Pasteles en Hoja (and kind of plantain pie filled with meat and raisings, covered in a plantain leave), Potato salad, gummy fruits, apples, grapes and Ponche (rum cream drink) also a traditional drink for these days.
Dominican Christmas (Chritsmas Carols – Dominican Way)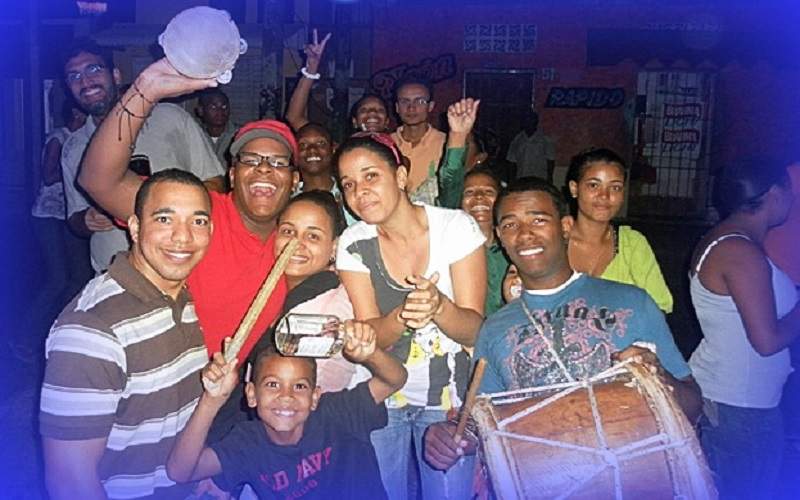 Dominicans are known for their joy and inner music. So at Christmas time, we love to let it flow!  With the AGUINALDOS people, kids and friends tend to go to homes and play instruments and sing Christmas carol songs at the home's doors. 
The homeowners tend to invite them to hot tea, chocolate, or some Christmas candies to eat.  Some street kids also tend to do it for a tip.
Another way of carols is the MAÑANITAS, which used to be also people signing songs, but lately is more a music truck playing Christmas songs between 2-5 AM to wake you up with Christmas melodies.
Dominican Christmas – Home and Neighborhood Décor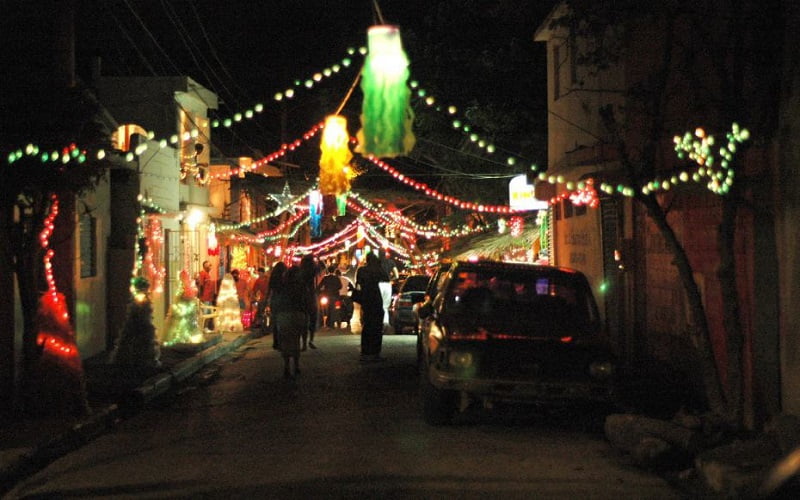 Dominican love to decorate with ornaments! We love it that much, that generally people start decorating their homes in early November, and leave all decors until the end of January.
Also, neighbors get together and decorate their neighborhood streets. Sometimes there is even some competition trying to see which neighborhood has the best décor in town.
Angelito / Diablito ( Secret Angel Gifts Game)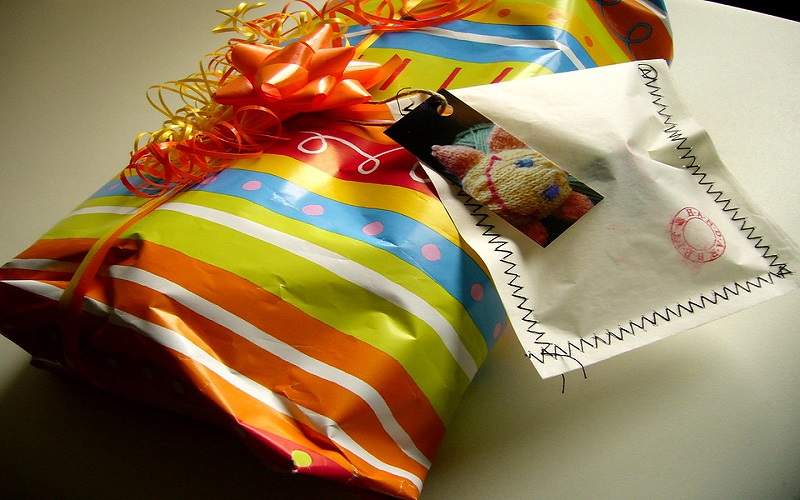 This is one of the traditions that I personally enjoy the most. Even though having our 13th salary bonus (yes, Laboral law make all Dominicans to receive a 13th salary in December). We love gifts so much, that sometimes there is no way to give something to everyone, so an excellent way to exchange presents with friends, family and/or co-workers is playing ANGELITO (Secret angel).
The game consists of creating a list of names of the people playing, each one takes one name, and you give a present to that person you got in your paper.
A funnier version of the game is adding the DIABLITO (Devilish Secret angel). It is basically the same as above adding more days of playing, the few firsts days, you give your secret friend some JOKE gifts (for example, in one occasion my secret angel was someone with a new meat distribution company, and I gave him a Live chick, as my "initial investment" to the business). 
After several days playing Jokes, you give your official ANGELITO gift, and is when you get to discover who was the one playing jokes at you!
Misa del Gallo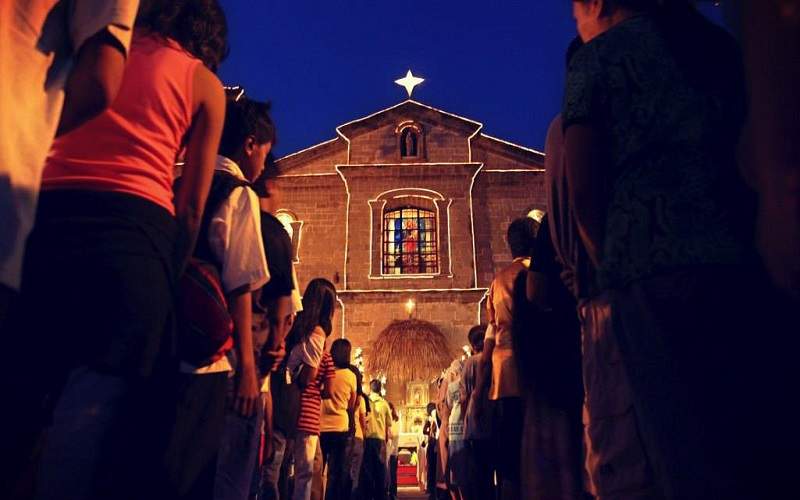 For Catholic devotes, the religion of the majorities in DR,  people tend to go to the MISA DEL GALLO, a special Mass done at 12AM on the 25th, to celebrate the birth of Baby Jesus.
Christmas Gifts for Kids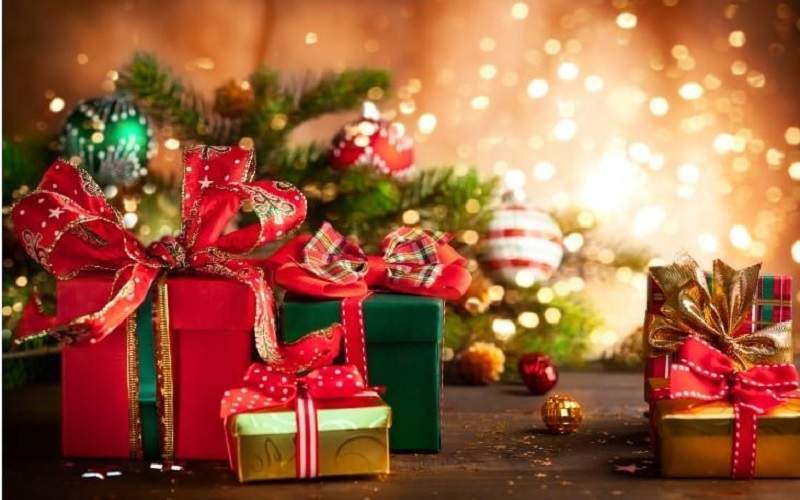 Dominican kids, depending of the area of the country, receive unique gifts by  different magical friends: Baby Jesus (December 25th),  Santa Claus (December 25th), Magic Kings (January 6th) and not much used lately, but sometimes also Vieja Belen (January 21st.,  which is also the same day we celebrate the Virgen de la Altagracia day).
There is also a beauty tradition of many families, companies, public and private organizations that recollect kids' gifts and bring them to the less fortunate neighborhoods in town.   Other groups bring presents on Christmas day to the kids that are in the hospitals.
Dominican Christmas – Seasonal Fruits and Candy Street Stands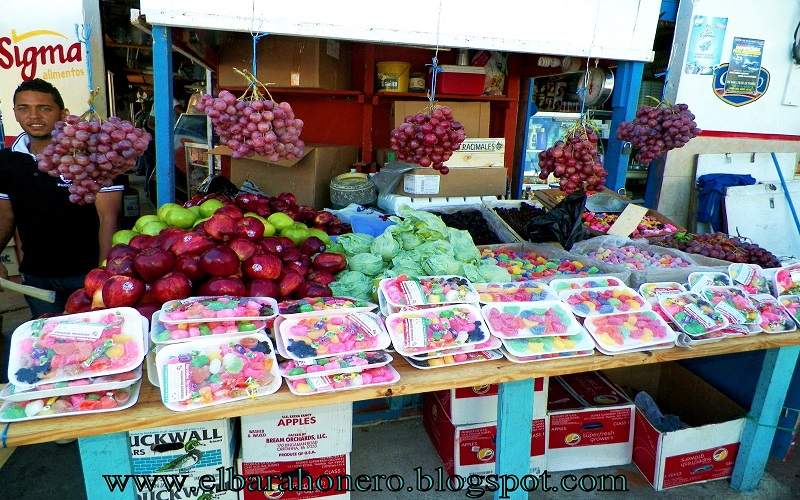 As Dominicans tends to eat grapes, apples, mandarins, sweet gummies, and many dry nuts, a lot of people place some street stands to sell those goods, and once you start seeing them, is when you say Christmas has begun!!
Roasted Pork Street Stands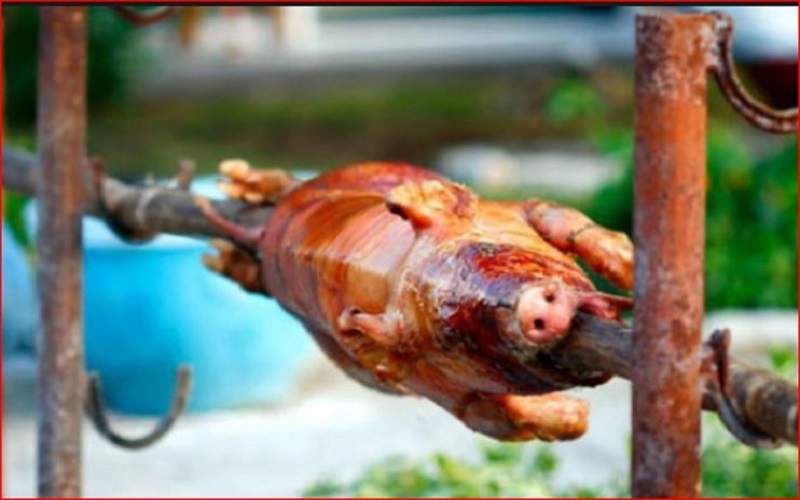 Yes, it is not Christmas if you don't eat Roasted pork. (It is like Turkey for Americans in their thanksgiving day). Our roasted pork take HOURS to be ready, so you'll see a lot of people cooking their porks, and you can go and get it ready to eat and buy it by pieces or pounds.
Business and Social Christmas Parties and Dinners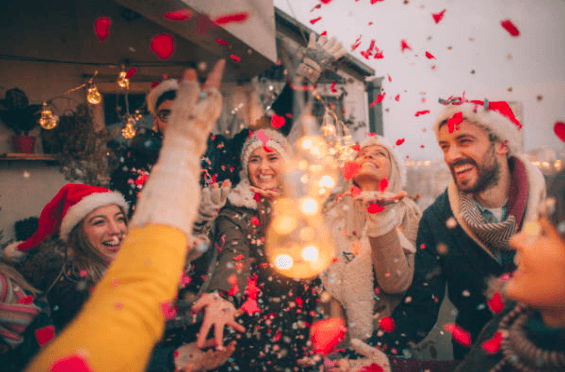 The majority of the big companies prepare a big party and/or Dinner for all of their employees. A way to show their appreciation for their hard work. In those dinner/ parties, the menu tends to be the Christmas dinner menu. And the companies tend to raffle many great gifts for their employees.
Many groups of friends get together to celebrate Christmas too. So we end up having a full agenda of events with almost a celebration every day of the month.  Definitely not a month to be on a diet (lousy joke, hahaha).
Christmas Basket Gifts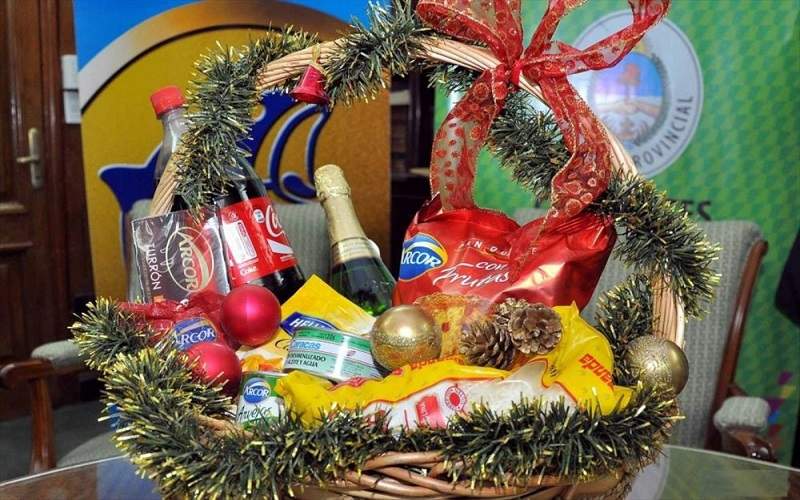 Another unique tradition is to give a Christmas basket as a gift; those baskets tend to have many of the goods that Dominican eat or drink on their Christmas day. 
Many companies sometimes decide not to do a party, but to help with their employees' Christmas dinner by offering this kind of gift. Mandatory items in these baskets are some traditional gummy candies, some apples and grapes, some classic Christmas cake or panettone, and of course, any alcoholic drinks like Rum, Ponche, Wine, Cider or Champagne.
As you can see above, for Dominicans Christmas = Share and joy! So we hope you can share some of our warm heartful traditions with us and can take home great memories of the way we celebrate it.
Don't stay in your hotel, go out and take some pictures of the Christmas details listed above, how many can you find?
EVENTS AND THINGS TO DO IN PUERTO PLATA

And now even more events coming on the way in DECEMBER 2019 in Puerto Plata, go out and share some of your time with the folk!
Every Day – POP CINEMAS at Playa Dorada Plaza – Movies.

Also, every Tuesday – Bohemian Night Old Romantic music) + 2×1 Mojito's night at MECLAO Rooftop Lounge.

Every Thursday – TBT Night (Previous years' Hits) at MECLAO Rooftop Lounge.

Also, every Thursday – Live Saxo Music at Casa 40 – 8:00 PM.

Every Thursday and Saturday – Live Music at Green Jack – 8:00 PM.

Also, every Friday – Karaoke and Great Ambiance at VITT's (Umbrella street) – 9:00 PM.

Every Saturday:  Sosua Artisan Market at Park las Flores, Sosua. From 4:00-10:00 PM.

Every Sunday – Peña del Cigar (Cigar smoking club) at Green Jack – 11:00 AM.

Every Sunday – Family Evening at Vitt's Umbrella Street – Characters for kids – 6:00 PM.

Every Sunday – Karaoke + 3×2 Coronas at Lust AfterWork – 8:00 PM.

Every Wednesday – December Month – Dewars' Drinks night – 2xRD250 – at Lust Afterwork – All night.
Further, in December
Every Friday – December Month – Coronas' Drinks night – 2xRD250 – at Lust Afterwork – All night.

Every Sunday – December Month – Dewars Drinks night – 2×3 – at Lust Afterwork – All night.

Saturday Dec 7th, Charity golf tournament – Playa Dorada Golf Club – 8 AM.
Moreover, saturday Dec 7th, theatrical Play "Dialogo de los Angeles" at teatro Ivan Garcia – 8 PM.
Saturday Dec 7th, Dancing day at LUST After Work.- 10 PM.
Sunday Dec 8th, Audivisual Play "Mirando pa' otro lao" at Luperon Museum – 7PM.
Friday Dec 13th, ZEO MUÑOZ Concert at LUST After Work.- 10 PM.
Saturday Dec 14th, Christmas family golf tournament and party – Playa Dorada Golf Club – 8 AM .
Also, saturday Dec 14th, Theatrical Play "El principito"at teatro Ivan Garcia – 6:30 PM.
Saturday Dec 28th, DJ Camilo Taveras 10th Anniversary – at LUST After Work.- 10 PM.
Saturday Dec 28th, DJ Camilo Taveras 10th Anniversary – at LUST After Work.- 10 PM.
Tuesday Dec 31st, New Year Eve PARTY! – at LUST After Work.- 10 PM.
Thank you so much for following our blog! If you enjoyed it, please like, share, and comment on it. Until the next one!!
Related Links and thanks to:
https://www.instagram.com/megaadventuresdr/
https://www.facebook.com/MegaAdventuresDR/
https://www.facebook.com/FunEasyLanguageSchool/
https://www.discoverpuertoplata.com
*CLICK BELOW TO VIEW OUR TOURS
*CLICK BELOW TO SEE DETAILS AND MAKE RESERVATIONS