Hello Travelers!!
First of all, for Dominicans, February is the most cheerful month of the year. We do not only have Valentine's Day, and our Independence Day in this month.  We also celebrate the Dominican Republic Carnival season through the entire month. Also we have the main celebration each Sunday at the most important Plaza or Street in town, with parades, music and live entertainment.
The people play the leading role in the carnival, it behaves as both actors and spectators, always being the mob a great part of either side of the show. The carnival is actually part of the Dominican Republic culture.
According to Mariano Hernandez and Dagoberto Tejeda in their "Carnaval Popular Dominicano" book: the Dominican Republic Carnival is certainly a popular culture's magic space in which survival and diversity coexist through a combination of the participation of the races.
In DR, all carnival manifestations are unique. Above all, the language of symbols is prevalent as a subversive subliminal identity made up of ridicule and satire through artistic proposals.
By the way, since we are on the subject of typical Dominican things, why not take a look at our previous post where we talked about Dominican dishes?
Mini Cojuelo
This character is a satiric reflection of evil. If the Carnival represents the world upside down, then who governs it cannot be God (Catholic –Christian logic), rather it must be governed by God's contradiction, the Devil.
As a result, The Diablo Cojuelo roams the streets with his alleys armed with an animal skin balloon, generally made of pig's or cow's bladders. This is also used to target and scare kids and adults. Furthermore, this is the main character in the Carnival.
Each town's carnival has a particular identity, their own representation and names for their Devilish main character, who also interacts with many more characters that participate in all carnival representations across the nation.
Seems like characters could be individuals or in a "Comparsa", where all of them dress alike or with one same concept. Either way, one thing in common for any costume will always be the Mask or Painted Face as a Key element. through it, the anonymity, impunity, and liberty of the parade's participants are reinforced.
Historical Facts:

According to some historical papers, Dominican Carnival started in 1520 in La Vega Vieja; basically imitating some religious tradition that came from Spain. (That's why most of our Diablo outfits include the cape, trousers and shirts that simulate the Colonial clothing of that time).
27 of February is our Dominican Republic Independence day. And also could be the last day to celebrate our Carnival (in case there is not another Sunday left in the month's calendar).
Dominican Carnival – Top 10 Characters
1 – Diablos Cojuelos of La Vega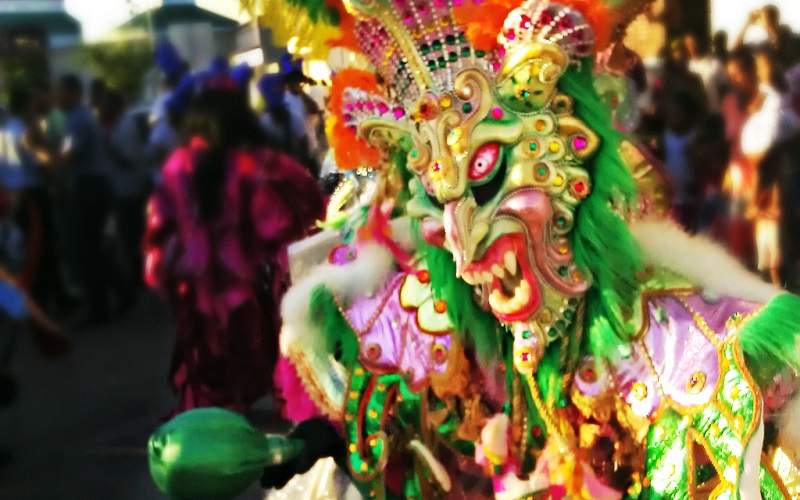 It is probably the most important and emblematic carnival of Dominican Republic, being also the most expensive costume of them all.
It is the character who still keeps most of the characteristic of the original Diablo Cojuelo: The Pants, the Colonial shirt, the cape, also full of jingle bells to provide a special sound when moving. Most noteworthy. their mask is the most devil and frightening–looking one.
2 – Dominican Republic Carnival – Lechones of Santiago
Another Carnival. This is the second most important carnival in Dominican Republic, and one of the most known and used costumes in the country. Having the Pants, the Colonial shirt, the cape full of jingle bells and/or whistles. The mask doesn't have a devil look, and you can also recognize it due to its prominent Jaw and long horns, full of thorns and/or balloons.
3 – Dominican Republic Carnival – Taimascaros of Puerto Plata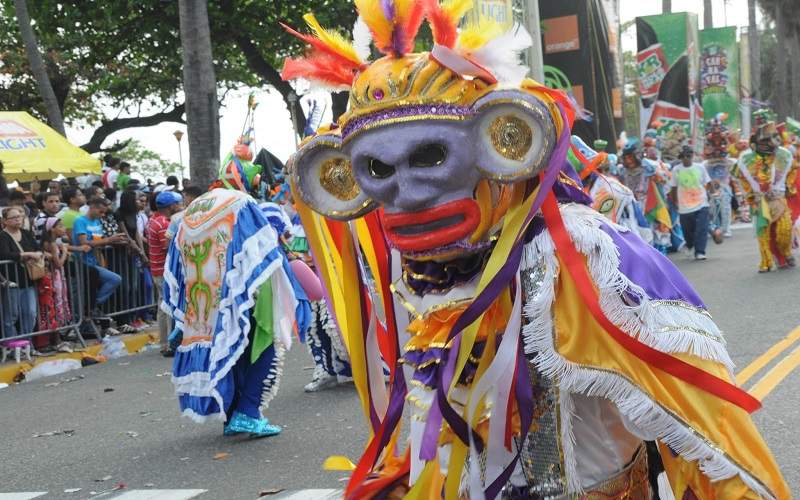 Is one of the newer characters on the Dominican Republic's Carnival.
It was born as a mixture of Taíno and Mascarao (Another name for Diablo Cojuelo). This one evoques the Dominican Republic race mixture: Spanish, African, Taíno (original natives of the island).
Having the body of the costume made like some of the traditional Diablo Cojuelo (Cape, pants and colonial shirt), adding colors, laces and details of the African carnival, and ending up the mask with taíno gods' or art representation.
Changing the jingle bells of the other town's diablo cajuelos for sea shells (evoquing our beaches) and painting the capes mostly with taíno's symbols.
4 – Dominican Republic Carnival – Roba La Gallina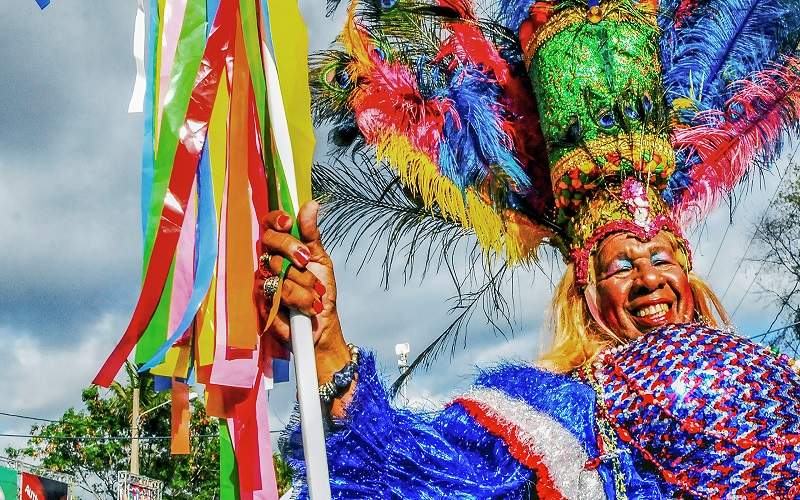 This is another silly character, and it's always a male disguised as a woman. With its characteristically over exaggerated breast and butts, holding an umbrella. This character goes around asking for food and money for her little chickens (a satire for the younger folks following her). This one is certainly funny.
5 – Dominican Republic Carnival – Califé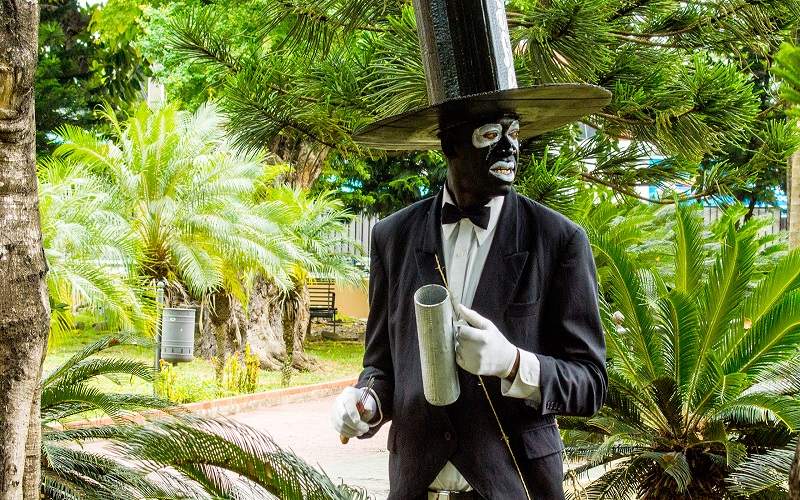 This is another character, he goes dressed with black suit, White shirt, very high black hat, and also a black painted face. He Preaches on a poetical and/or mob way, all the political, social, and cultural aspects of the current country's situation. Similarly to the others, he expresses local and historical circumstances.
6 – Los Tiznaos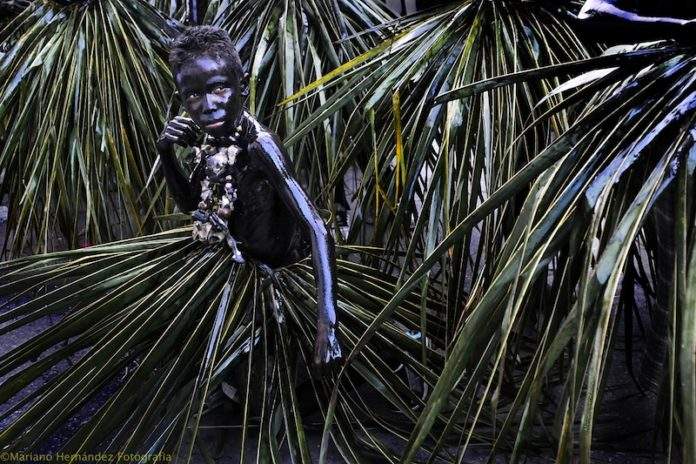 This is another popular character, mostly men. They are all covered in burned oil that they get from the gas stations. The character symbolizes the black African slaves. In their show, they go dancing on the street, menacing the crow to get them stained, unless they provide them with soap and/or money to help them get clean.
7 – Los Indios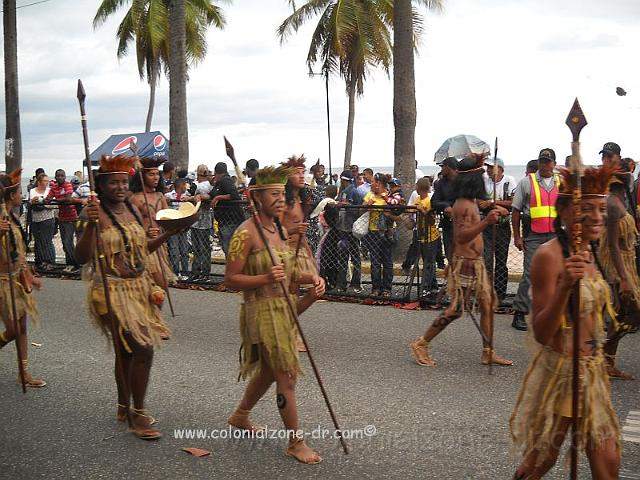 A group of people disguised as TAÍNOS, as a protest of their abolition and our cultural beginning.
Even more interesting character, due to its origin in our culture.
8 – Se Me Muere Rebeca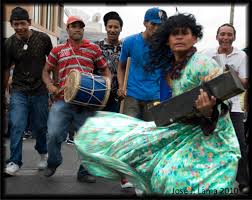 This could be a man or woman, disguised as mother with her baby (a doll). That pregonates about her dying baby, due to the unaffordable cost of the medicine sector, as a satire and criticism to the social and government services.
9 – Los Trasvestis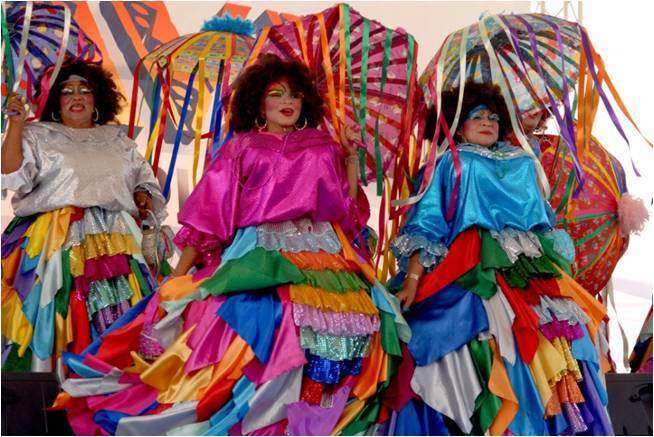 According to Hernandez and Tejedas Carnival book  "As an upside down world, many men disguised as women, as a protest of the moral falsehood and hypocrisy of the dominant elite. And also, many homosexuals take advantage of this creative space in order to become what the repressive society does not allow them to be. In a sense, the carnival gives them what society takes away."
10 – LA REINA DE CARNAVAL and/or EL REY MOMO: (Carnival King and Queen)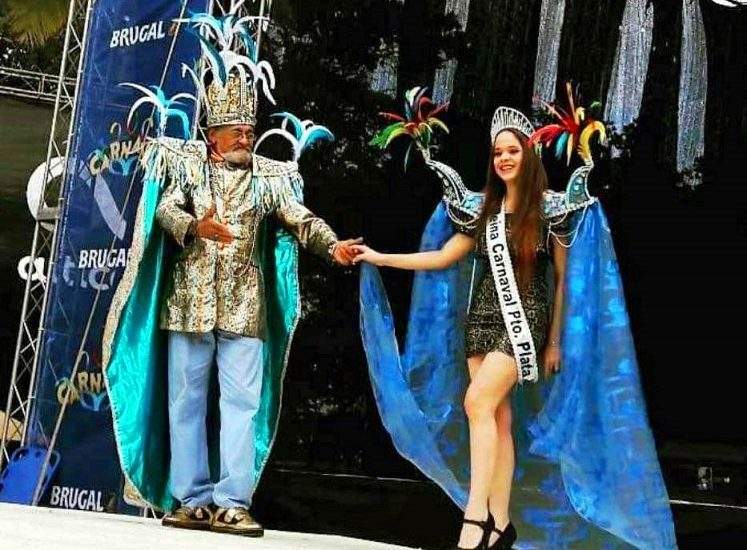 Another two characters. Could be one or both of them are normally chosen every year, to preside the Carnival season. They normally open the carnival parade and get chosen because of their cultural work and support through the years for the town's carnival.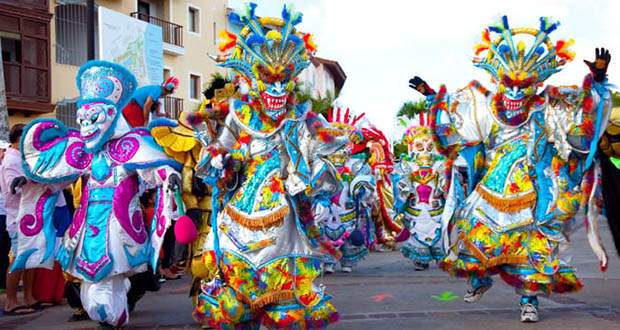 These are only some of the characters, we have way much more to discover and understand. All of them full of color, joy and double meaning. All of them are a product of great creative and economical effort. Many of them built after recycled and/or natural materials. The sky is the limit for the artists who present their carnival creations.
If you are looking for real authentic cultural encounter, you will have to visit us in February! don't stay at your hotel room. Be brave enough to visit as many different town's carnivals as possible. You could probably discover and identify some of the characters of the above list, and enjoy the most joyful Sunday afternoon!
What would you want to be for your next Carnival? As for me, I want to be a TAIMASCARO!
Events In Puerto Plata
As always and above all, here's the list of events happening this February 2019 in Puerto Plata.
I will be writing a new post per month, but I will be updating the current one, with more local events that come to my attention. So, keep coming here for an updated list of events happening in town!
If you liked our blog, please like, share and comment it. Until the next one!!
Every Saturday: Sosua Artisan Market at Park las Flores, Sosua. From 4-10 PM
Every Sunday: Starting at 3 PM – Puerto Plata Carnival at MALECON.
Every Sunday: Starting at 5 Pm – Puerto Plata KIDS Carnival at Parque Central.
February 9-10, 2019 – starting 11 AM- Apiñonao Bazaar and food. At Lust After work – Live music, food trucks, bazaar.
February 14, 2019 – 6:00pm celebrate VALENTINE'S DAY at Los Charros CaribeMex Restaurant on Cofresí Beach with Diner Specials & Live Music. RSVP 809-970-3332
February 15, 2019 – 8:30 PM – Valentines' Speed Dating at Casa 40. Cover RD 1,000 – RSVP 809 434 – 0072 – Are you still single?
Feb 20, 2019 – Zeo Muñoz "Acustic" Conciert – at LUST After work.
Feb 24, 2019 – Master of the Ocean Festival at Cabarete (Four water sports, one celebration).
February 27, 2019 – Independence Day – School parades at Central Park and Malecon.
Finally, Mega Adventures offers you the best excursions and activities in Puerto Plata. Join our Mega Adventure!
Related Links and thank you to:
https://www.instagram.com/megaadventuresdr/
https://www.facebook.com/MegaAdventuresDR/
https://www.discoverpuertoplata.com
https://caelepop.com
https://www.facebook.com/FunEasyLanguageSchool/
*CLICK BELOW TO VIEW OUR TOURS
*CLICK BELOW TO SEE DETAILS AND MAKE RESERVATIONS